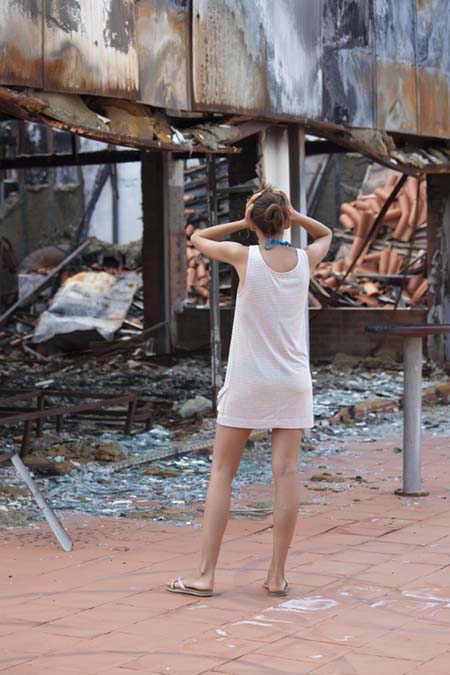 Paragon Restoration offers professional fire restoration and smoke restoration for your residential or commercial property.
We suggest that you DO NOT attempt to perform any "do it yourself tasks" or cleaning methods without first consulting a qualified Paragon Restoration technician. For example, touching surfaces covered in soot could actually make the damages worse by permanently setting the soot. Returning your property to pre-loss condition and helping families and individuals like you is what we do.
Understanding Fire & Smoke Damage – During a fire, smoke is driven by heat created by flames. No matter where the fire originates, smoke may penetrate throughout a building's structure. Smoke also combines with humidity and can form corrosive residues that may cause secondary damage. A quick response and action are critical to minimize the damage.
In addition to our years of experience in dealing with these situations, our uniformed highly trained Restoration Technicians have completed advanced training in fire mitigation, restoration systems, and corrosion control. It is our GOAL to restore your property as quickly and efficiently as possible.
Emergency Fire and Smoke Damage Services Guide
The following is a checklist of services that may need to be addressed in order to restore and protect your property. The assessment includes a thorough visual inspection with photo documentation.
Determine the cause of the damage. (i.e. Protein Fire, Complex Fire, Natural Fire, or Furnace Malfunction)
Perform Emergency Services
Secure property (Board up or Tarp)
Inspect furnace or AC unit (prevent cross contamination of smoke and odor into other areas)
Turn off electrical power to address safety issues
Restore electrical to use lighting and restoration equipment
Remove debris to clear way for restoration process
Perform emergency water damage mitigation (from fire fighting)
Perform emergency corrosion mitigation (on all surfaces affected)
Empty Refrigerator or Freezer, Empty food cabinets, Dispose of spoiled items. (NOTE: Keep a list of the items disposed)
Furniture & upholstery cleaning (specialty equipment for restoration is required)
Begin initial odor control measures
Arrange for emergency laundry & dry cleaning services (for several changes of clothing for immediate use while ALL clothes get restored)
Perform carpet & furniture cleaning
Begin structural restoration (includes cleaning ceilings, walls, as well as polishing and deodorizing woodwork
Focus on source areas of trapped smoke (including closets, attics, cabinets, and drawers.
Clean all hard surfaces (including countertops, wood floors, tile, granite, marble, laminate, etc.)
Separate items. Restorable vs. Non-restorable (for Insurance purposes)
NOTE: some items may require a specific, qualified restorer. Items such as antiques or electronics could fall into this specialty restoration category We have advanced products and systems for restoring different smoke damaged contents.
Hand washing & drying
Ultrasonic Cleaning (blinds, collectibles)